Waterdrop 15UA-UF Under Sink Water Filter System
Waterdrop's under sink water filters are compact, affordable, and easy to install. It's good at removing bad tastes and smells from water. And though it can't filter other common contaminants, its long filter life makes it a convenient choice for better tasting tap water.
We earn a commission if you make a purchase, at no additional cost to you.
What We Don't Like
Only certified to remove aesthetic impurities
Likely to drop your water pressure
Return/refund policy isn't great
Does your tap water smell and taste bad? If so, it's probably discouraging you from drinking your daily water needs. Luckily, fixing the taste of your tap water doesn't have to cost an arm and a leg—and Waterdrop's under sink water filters are as easy to install as they are affordable.
For our review of the Waterdrop under sink water filter, we compared the results of dozens of hours of testing and research on water filters. And now we're going to share our findings, including a judgment on who this filter is best for (and who should look for a different filter elsewhere).
Components
Waterdrop's under sink water filter is about as streamlined as a filtration system can get. In the box, you get:
The filter housing and filter
Braided metal inlet and outlet hoses
2 self-tapping screws for wall mounting
⅜" to ½" converter
Teflon tape
The entire water filter attaches directly to your existing cold water line. And it pours through your kitchen sink's faucet. That way you don't have to fiddle with installing a separate faucet, as is the case with many larger under sink filters.
How It Works
The filtration system for Waterdrop's under sink water filter is simple and straightforward. In each filter, you'll find three layers. Let's take a closer look at each.
Layer 1 is a polyester membrane. This cloth filter is tightly woven, and helps to remove dust, silt, and sediment. That both makes your water clearer and extends the life of the next two layers.
Layer 2 is an activated carbon block filter. This layer removes up to 97% of all chlorine in water, as well as volatile organic compounds that can give bad flavors and aromas.
Layer 3 is a kinetic flux degradation filter (KDF). In plain English, this layer uses copper and zinc granules to capture the last of any chlorine and hydrogen sulfide (rotten egg smell) in your water.
Once the system is installed, water flows from your cold water line through each layer of the filter. Then it's dispensed through your kitchen sink's faucet.
Performance
This Waterdrop water filter has only one certification from the NSF/ANSI.
Certification 42 means that this filter is guaranteed to remove aesthetic impurities. That includes the bad taste and smell of tap water (mainly from chlorine), as well as cloudiness from sediment.
Waterdrop also states that their "specially selected premium materials are lead-free, which is fully certified by the WQA against NSF 372 standard".
It's worth noting here that the NSF only provides full certification to entire systems that have passed their rigorous tests. So while this filter may remove some lead as indicated by NSF 372, it's not fully tested to do so.
Flow Rate
Waterdrop provides testing data for all of their water filter systems. In the case of their under sink filter, it's rated to a maximum flow rate of 0.75 gallons per minute at 60 psi of water pressure.
In practice though, you may not achieve this flow rate. 60 psi is quite a high water pressure bar for many houses and apartments. If your flow rate is already fairly slow, expect it to get slower after installing this water filtration system.
Installation
Even the most DIY-phobic person can figure out how to install Waterdrop's under sink filter. Push to connect fittings and a streamlined design mean most people will be able to install it in under 10 minutes. And if you want to mount it on the wall of your cabinet, self-tapping screws make it exceptionally easy to do so. In short: It's one of the easiest filter systems to install under your sink.
Filter Replacement
Replacing filters for the Waterdrop is even easier than its installation process. Simply twist it off with a turn of the wrist, and reverse the process with a new filter.
Even better, Waterdrop's filters last for a very long time. They're rated for 8000 gallons, which gives about 12 months of filter life with average use.
Replacement filters are offered for about $20, making this system quite cheap to operate.
We earn a commission if you make a purchase, at no additional cost to you.
Build Quality
The build quality for this under sink filter system is quite good. And that's even further emphasized by the simplicity of its design.
Braided metal hoses are a nice touch, and a step up from the plastic tubing that's standard for under sink filters. Push to connect fittings should be sealed with teflon tape just to be safe, as it's possible for leaks to develop if you haven't pushed them in tightly enough.
Lastly, the metal fittings and adapters are well made, as are the self-tapping screws. Overall, it's a surprisingly nice filter for the price.
Warranty & Support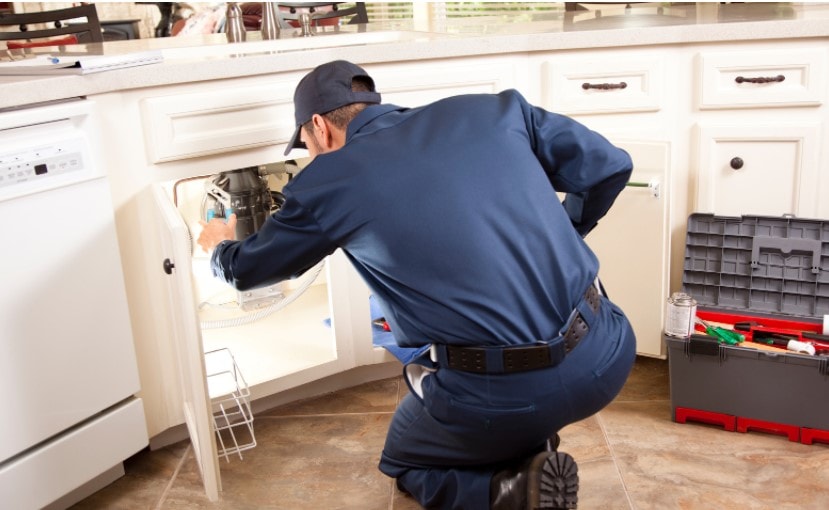 Warranty and support is where you'll make the biggest tradeoff with Waterdrop. Though their filters come with a 1 year manufacturer's warranty, there's no grace period in which to return the product for a full refund. According to the company's service terms if you do decide to return the filter, you'll be responsible for shipping and handling as well as a 20% restocking fee.
Recap
Overall, Waterdrop's under sink water filter offers a great value for its price. If you're mainly looking to fix the taste of your tap water, it's great. It's limited in what it can filter, though. So if you're trying to filter out contaminants like heavy metals, you'll need to invest more in a more comprehensive filter system.
We earn a commission if you make a purchase, at no additional cost to you.
Frequently Asked Questions
To wrap things up, let's take a look at the most common questions we've heard asked about Waterdrop's under sink filter.
What does Waterdrop's under sink filter cost per gallon?
Each Waterdrop filter is rated for 8000 gallons, and costs just $20 to replace. That means it costs less than a penny per gallon of filtered water.
What contaminants does this filter remove?
The Waterdrop under sink system is only certified to remove aesthetic impurities. That includes the bad tastes and smells produced by chlorine.
How long do filters last for Waterdrop's under sink system?